I've been hatching plans for my first aquaponic system over the past several weeks.  I am new to aquaponics, and very excited, as is my girlfriend, Molly! (she may turn up here from time to time).  We might be a little... overzealous: We have already covertly reinforced the living room floor in our not-quite-700-sq.ft. complex-apartment. We are officially invested!
We are currently fortunate enough to have my dad's backyard and garage to work in and are accumulating components. So far we have purchased and cut an IBC tote, and sanded and painted the (rusty) stand for the fiberglass sink. I plan to situate the IBC grow bed to cover half of the IBC fish tank.  I bought some 2x4's today and hope to tackle the stand for the IBC GB tomorrow (Memorial Day), provided the rain ever lets up.
Freshly painted sink stand and tote frame, cut in two: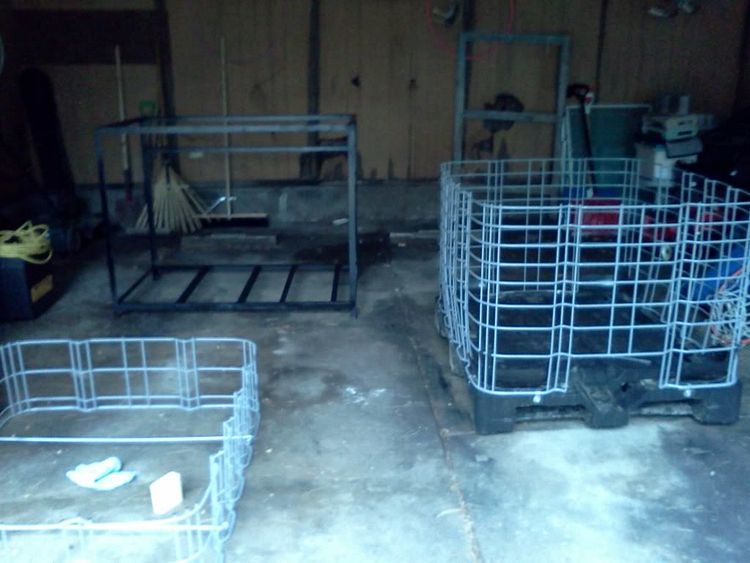 Fiberglass sink (4'x2'x10") and IBC tote, cut and stacked. On top is the 4x4x1' deep GB, the remainder will be FT: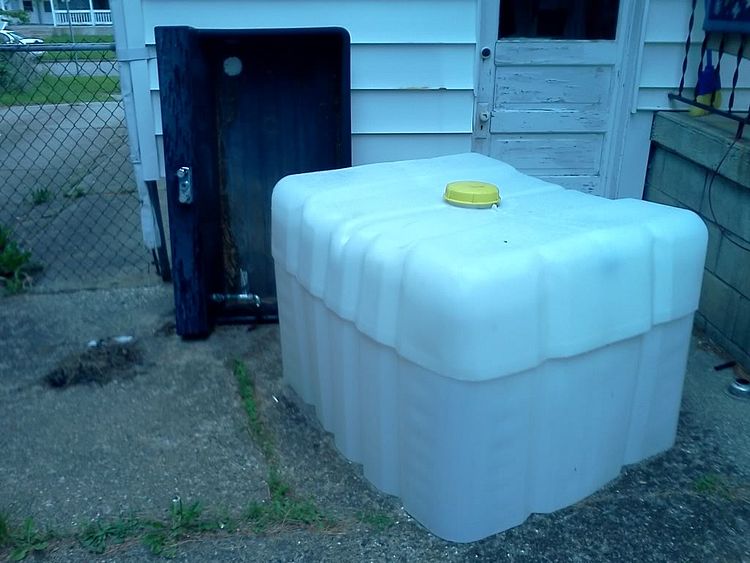 The system will be placed in front of a large E-facing window, and I'm planning to purchase three 4x4' T5 fixtures to hang over the grow beds.  Substrate I've picked out is lava rock with a layer of hydroton or turface, depending on how far the project budget goes.
For plumbing I have some thoughts but am very open to suggestions.  I do not have a sump tank, just a (roughly) 28 ft3 FT, a 16 ft3 GB, and a 6 ft3 GB. I was thinking of buying a pump and timer for each GB and running them each 15min/hr, with start times 30min apart.
This arrangement, I realize, relies on careful pump selection.  What factors need to be considered?  I can figure out the head and the volume that I want to move, but I don't know how to account for variables in pump efficiency, for example.
Also, where do folks purchase fittings - bulkheads, particularly - for their set-ups?  My sink has a 3" drain (okay, hole) with just a chrome drain cup sitting in it. It has a smaller (1/2"? 3/4"?) hole on the side about 4in up that has weathered-looking fittings from an eye-wash. I have zero experience in plumbing, so this is also a bit intimidating.
As far as stocking, our apartment maintains tropical temperatures year-round, so we are going with tilapia.  I plan to purchase live adults from a local asian grocery until I get a pair that breeds (then we eat the rest and raise the fry). I have bought a couple from them already (for dinner), and one was female, so I am optimistic that they may not be sex-reversed.
I also have a colony of marbled crayfish that I will be moving into the FT, with plenty of caves/tubes to hide in.  My hope is that the tilapia will eat the young but not the adults, providing a steady live food source.  I saw Chi Ma had done it, and I conveniently happen to have an established colony in a turtle rehab tank (to fatter up the turtles and give them something to hunt).  My other aquatic project for the summer is to release the turtles and convert the tank (6' 100g) for my botias, so the marmorkrebs need a place to go... what good fortune!
Other feed for the tilapia will include hornwort, which I have growing in my aquaria to take up nitrates, and kitchen scraps, along with a decent quality dry food.
Questions:
Better ways to plumb the system?
-or-
Choosing the right pumps? and
Good GB overflow designs?
(PS: Thanks for reading all that!)